Click here to download our printable brochure in PDF format (opens in new tab or window). You will need the Adobe Acrobat Reader to open this file.
Committed to God
The Praise Gang Puppeteers are a group of families in Southeast Michigan called by God to serve Him by spreading the good news of His word. Our goal is to serve Him with the talents He has blessed us with.
Blessed with Variety
The Praise Gang offers a unique blend of music, offering selections of vocal music and hammered dulcimer. We have clowns, object lessons, balloon art and of course puppets, puppets, puppets! Our ministry appeals to people of all ages. Because we have several families in our group, not everyone is available for all bookings.
---
Open to God's Leading
God has opened many doors for us over the past few years. We minister at campgrounds, fairgrounds, festivals, city streets, churches and anywhere God calls us. We also have had the privilege to go on two mission trips to Mexico.
God Will Provide
The Praise Gang has no set fees - our ministry is supported solely through love offerings. All our members have full-time jobs or are retired and God has met our needs. We owe Him so much that we could never repay. All glory and honor go to Him that provides.
---
Give us a Call
If you would like to schedule us for a presentation, please feel free to contact us. Our schedule fills quickly, but we will do our best to accommodate you.
Email: Praise Gang Puppeteers
We need your support
Please pray for us as we travel. We rely on our friends for prayer support, especially as our schedule becomes more hectic.
May God Richly Bless you,
The Praise Gang Puppeteers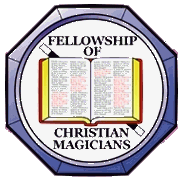 Members of the National Fellowship of Christian Magicians
International Fellowship of Christian Magicians